At Farrell's eXtreme Bodyshaping (FXB), when one sets goals for themselves, we believe it's important to have support and encouragement to achieve those goals. It is our mission to provide that support and encouragement, along with a great bootcamp made up of fun kickboxing classes, strength training, and nutritional guidance. We also believe that when one achieves their personal goals, they are to be acknowledged and celebrated. FXB is a great community where we love to celebrate our own victories, as well as, everyone else's victories.
Recently, we asked members to share something they are proud of, something that they have accomplished, achieved, or conquered since joining FXB. What we expected to hear was how members were proud of the 20 lbs., the 30 lbs., the 40 lbs. they have lost; the 4 inches and 5 inches they have lost off their waist; or the 6% body fat or 7% body fat that they have shed. What we got instead was so much different. In a media-crazed world where people worry about what the scale says and are pressured by the looks of the latest supermodel on the cover of a magazine, it was so refreshing to read what our members "bragged" about.
Enjoy the following responses from our members. Maybe some of these will inspire you to take a look at what you've accomplished yourself, and to be proud of something other than what the scale says. Some of our members have a good sense of humor.
"I discovered how strong I am mentally and physically. For once I don't feel like giving up." Kayla S.
"5 years ago I started a bucket list and really hadn't completed much. Because of my fitness level from FXB I completed a ½ marathon, multiple local races, climbed a 14er, stairs at the Manitou Incline and a mud run in one year. All things that were just sitting on my list….now I get to add more all because of FXB." Misty T.
"The opportunity to participate in a community of peeps that focuses on getting stronger! Physically and mentally!" Jaye S.
"For the first time in my life I am excited to get up and workout each morning. The motivation I have gained at FXB has even carried me to workout on business trips, something I do far too often." Charlene H.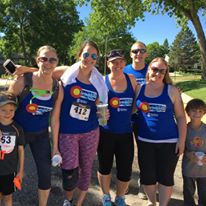 "I actually ran a 5K at the Splash Dash, amazing!" Katie K.
"I'm finally committed to a fitness program and going to the gym is my 'me' time. I look forward to it." Teresa B.
"I am still getting from co-workers, 'you get up at 0430, workout, work a minimum 12.5 hour shift at the hospital dealing with all that and repeat? I don't know how you do it. I admire you. And you can pass up those treats……Oh come on, eat it!'" Shelly B.
"I realized I can get up early to work out. Now, I actually like working out in the morning better than after work." Renee P.
"In my mid 40's, I am stronger than
ever before." Jenny B.

"I have consistently been working out now for a year and a half……and I like it." Tammy H.

"Like Tammy, I've been working out consistently since I started Farrell's (January 2016) and my cholesterol has dropped 30 points." Kelly N.

"I can do push up on my toes. Okay, only about 10, but its better than zero. Yay me!" Julie B.


Since many of our members won't brag about their physical transformation, we will! Numerous members at Farrell's eXtreme Bodyshaping in Centennial have lost 30 lbs, 40 lbs, even 60 lbs; 6+ inches off their waist; 7% or more of body fat and other great physical achievements while they have continued
working out in this incredible supportive environment. Congratulations to you all!
At Farrell's eXtreme Bodyshaping, we offer Boot Camp style classes that are designed to give all fitness levels extreme results. We offer a 10-week fitness challenge that includes the following four components: 1. Kickboxing classes, high intensity cardio classes that burn fat, 2. Strength training that builds lean muscle and tones the body, 3. Nutrition assistance with simple, individualized meal plans and education that focuses on a healthy diet, 4. Accountability provided by our coaches that encourage, motivate, answer questions, and help guide you through the program.
Are you ready to join our 10-week fitness challenge? Contact us today!
* We believe that everyone can achieve measurable results, but the specific results will vary from person to person.